Thursday
my dad and I left for Toronto. We were supposed to leave around 1 to get the 1:35 train, but my mom got sick, so we had to take the bus at noon instead. So we ended up getting there early, and the train was late anyway. We ended up leaving at 2 and got to the train station around 7:30, so we made good time. While on the train, I started reading
Mockingjay
, listened to music, and watched Harry Potter and the Chamber of Secrets because I know I'd miss the watch along on
hp_commonroom
. When we got to Toronto we walked to the hostel and got ourselves checked in. The room we were in was a deluxe, so it had three beds, and ensuite bathroom, and a TV. And it came with breakfast everyday. Since there were only two of us, there was someone else in the third bed. He was from Germany, and he was pretty nice.
Friday
I woke up too early because the curtains were open and the window faced the east so it was bright as hell in the room at 6:45 in the morning. And we didn't even leave until 3 or so for the convention center. The line wasn't too bad, considering it was the first day. When we got there, the line was to the end of the building and it went into the garage (I think), or the Intercontinental hotel, but they had to move us so we'd be on the sidewalk instead. At this point, some woman in the line in front of my dad and I started complaining a lot about how other people were going to get in ahead of us and we were going to lose our spots or something like that, it was pretty annoying. Before that, she also complained about how the people running Fanexpo just want money and don't care about the actual fans, and she went on about that for a few minutes. But I couldn't help thinking "Come on woman, if you think it's so bad that they are money-hungry, why are you giving your money to them?"
The line on Friday when we were about a third there.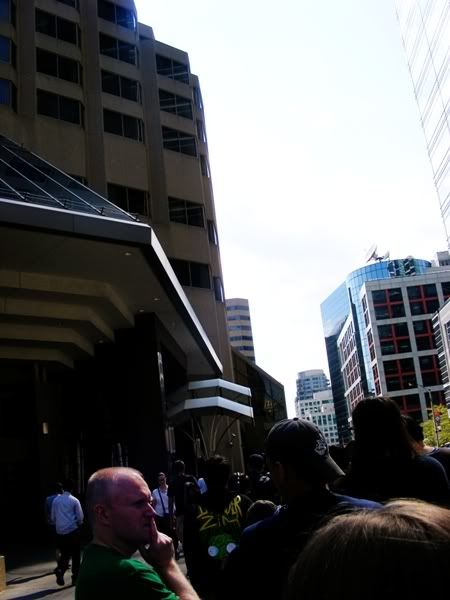 Nice picture I took while I was in line.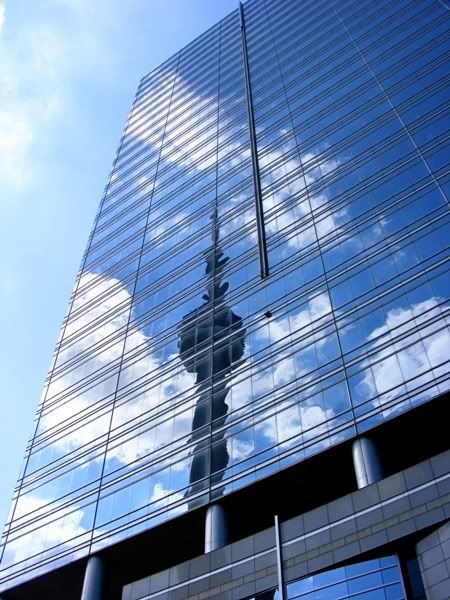 The line went up the street to the building and then past it towards the CN Tower, up some stairs, and then we had to get unto the building and exchange our ticket for a wristband.
Anyway, we got in right to the retail floor so I walked around there first. I found the spot pixelbarrel had (because they sold Star Trek and Doctor Who stuff so I had to find them) , this will sound weird, and I was kind of overwhelmed by how much stuff they had. I was already overwhelmed by the whole thing, and when I saw all the Doctor Who stuff, I just went 'omg'. I bought a Star Trek: TOS phaser for my costume, and a Rose + K9 action figure set because all the other ones were on the expensive side (Rose and K9 were only $15). I really wanted to buy an Eleven and Amy action figure, but I decided to get them from drwhomerch.com because stuff is cheaper there even when you count shipping.
The pixelbarrel spot. Oooh Doctor Whoo!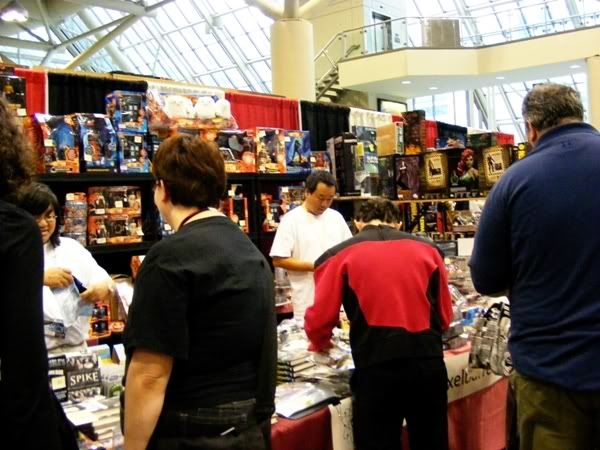 They had the Supernatural car there, which was cool.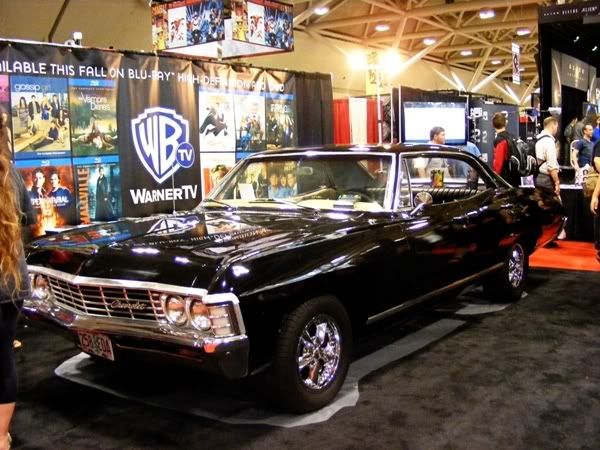 The retail floor wasn't so busy on Friday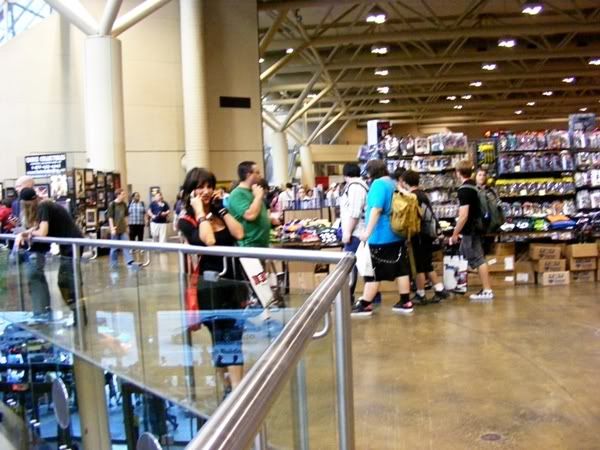 I saw these cosplayers when I was in line to get in for like two seconds when they made their way to the end of the line, and I went "omg dad, look they're dressing up as Doctor Who characters!" I don't think he saw them though. I was never on the same floor as them though, so this is the picture I got, like I was the paparazzi.
There was this panel with some authors who had written stuff about vampires that I went to, it was pretty good. It was at this point that I realized that I had forgotten my book that I wanted Kelley Armstrong to sign at home. Oh well. The panel was pretty good. Also, there is someone behind that guy's hat.
Part of the main floor.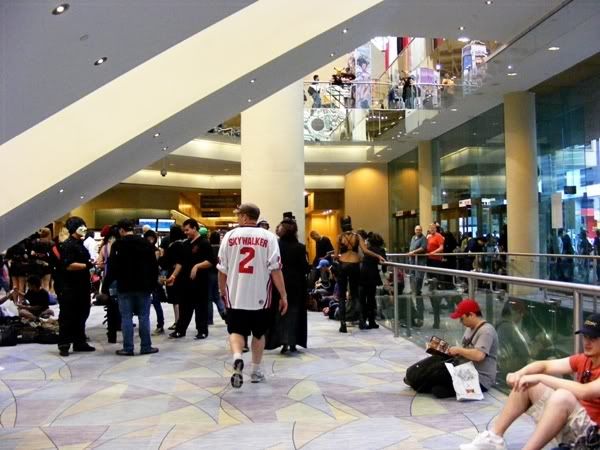 Another part
For supper my dad and I went to East Side Mario's because getting a pizza there for two people is a pretty good deal. It had chicken, bacon, and roasted red peppers I think, with some white sauce instead of tomato sauce. It was so good, but the lighting in the restaurant is weird so the picture looks eh.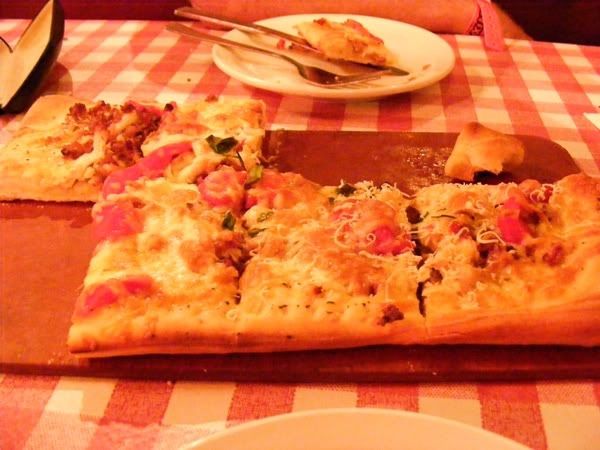 Saturday
we got to the convention center around 11 am and amazingly there was no line up so we just walked right in. When I got in I went to the washroom to change into my Star Trek red shirt costume (which I don't have any pictures of right now, sadly), then I went up to the retail floor, which was
packed
. Seriously, you could hardly move. When I had been there for about an hour, I discovered that I had forgotten my memory card in my hostel room. No way was I going to go all day without my camera, so I decided to go back and get it.
So I did, and I walked back to the convention center, which took probably around 45 minutes, and I came back to the most monstrous line I had seen ever for re-entry. Seriously, apparently the building had reached capacity so they couldn't let more people in until other people left. I ended up being in this like for TWO WHOLE HOURS. It was ridiculous. I was supposed to meet my dad at 2:45 to get in line for James Marsters, but I didn't even get back in until 3:30, when he started. So I ran in and down the escalator to the lower floor and found a decent seat in the room where he was having his q&a. Cue a sigh of relief. James Marsters was good, he talked about doing Buffy and Torchwood, and he sang a song. I took a couple videos but I haven't really watched them yet, so if the audio is good then I'll put them on youtube.
Two pictures, which ended up blurry for no reason at all.
After James Marsters I went to the Vic Mignogna q&a (he does various voices in animes). At first I didn't know whether I'd go to it or not, because I thought there might be some crazy fans there, like I'd seen on some youtube videos, but they weren't that crazy. He was pretty funny. When it was over, the guy sitting beside me asked if he could take my picture, which surprised me because I wasn't really expecting anyone to want to. When we got into the hallway he did, but I haven't seen if he put it online yet.
I didn't have anything to do after than until I went to the
ontd_startrek
meet up at 7, so I just walked about some and sat around the main floor to look at the other cosplayers. There were a lot of Doctor Who cosplayers, which I was a little surprised by, probably because I don't know that many fans in real life. There were also lots of other Star Trek cosplayers, and some Avatar:TLA cosplayers, but only like five Harry Potter cosplayers, a Snape, a Hufflepuff, a Luna Lovegood, a Gryffindore/Ravenclaw mix, and maybe someone else. At one point when I was just standing there, a guy came up to me and told me that I was the only normal person he had seen who managed to pull off the costume. Which really confused me, because I'd never heard a weirder complement in my life. Another guy wanted to take a picture of me after that, and he asked me if I could set my phaser to fun.
This is the Snape cosplayer as I first saw her. I was just looking around and spotted her up there and went "Snape!" So I tried to get a picture all sneaky-like. Also the other girl there is dressed as San from Princess Mononoke.
Cube from Portal as a man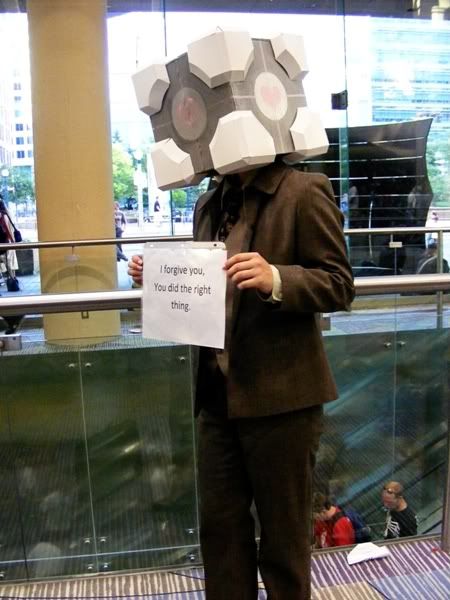 A gang of Stormtroopers appeared downstairs.
I was so excited to get a picture of the Snape cosplayer. Awesome costume. If I go next year I'll take more pictures of cosplayers.
Just before 7, I left to go meet the people form
ontd_startrek
.
Pretty picture from walking to the restaurant.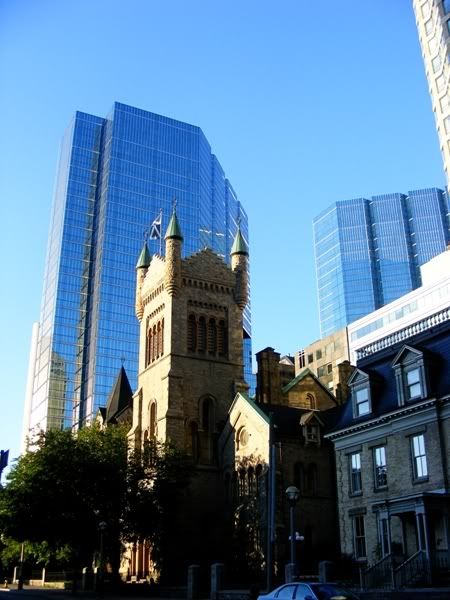 At that moment I was excited because I'd never been on a meet up before and I was looking forward to meeting these people, and nervous because I'd never been on a meet up before and I'm usually kind of shy with people I've never met before. But it turned out that being nervous was dumb, because it was really fun! Plan A was to go to one restaurant, but it turned out that way more people were coming than I thought (like 12 instead of 5), so we switched to the restaurant next door. There wasn't a lot of room at that restaurant either, but they had this lounge area that was mostly empty. It was this area where they had armchairs and couches and coffee tables and little tables instead of regular tables and chairs. So the tables and chairs got pushed together to make a circleish shape so we could all talk to each other. I was on the couch next to
captaincadet
and someone else who's name I don't remember (ahh I know, terrible memory :( ), but they were super nice. So was everyone else, but I wasn't sitting right beside everyone else. Anyway, supper was a three course meal and it was really good, there was lots of talk about Star Trek and other things, it was a really good time! :D After supper I got the waitress to take a group picture, because that's what you do at things like that (and also because I like to remember things). I think everyone else went to play Star Trek Scene it at someone's house afterwards, but since I don't live in Toronto, and my dad didn't have a cell phone for me to tell him about it, I just walked to the hostel when we were done. But seriously, good times.
Group picture :D I'm third from the left on the top.
That night I was really hoping that we'd get the room to ourselves, but right when we were going to start getting ready for bed, a woman came in to take the third bed. Aw man.
Sunday
, After stowing our luggage in the locker room, we left for the convention center, and we got there at 11, and there was this
huge
line there already. It went all the way down the side of the building, around the corner, past the overpass, and then round the next corner and down that road a bit. But it wasn't really a big deal. I think there were so many people because there was a rumor going around that they'd be opening at 8 instead of 11, so a lot of people went early. But yeah, not so bad, because when they opened around 11:15 the line started moving and it didn't stop so we got in in 15 minutes. Not bad considering how big the line was.
I walked around the retail floor for a bit, and I bought a Doctor Who book (
The Forgotten Army
), then I went downstairs for the William Shatner q&a. It was already pretty full when I got there.
Before it started.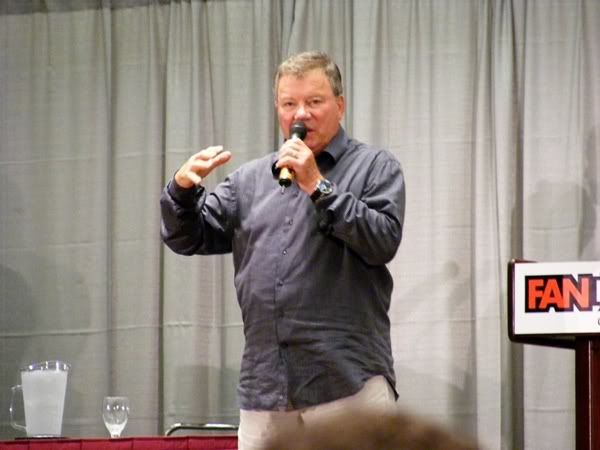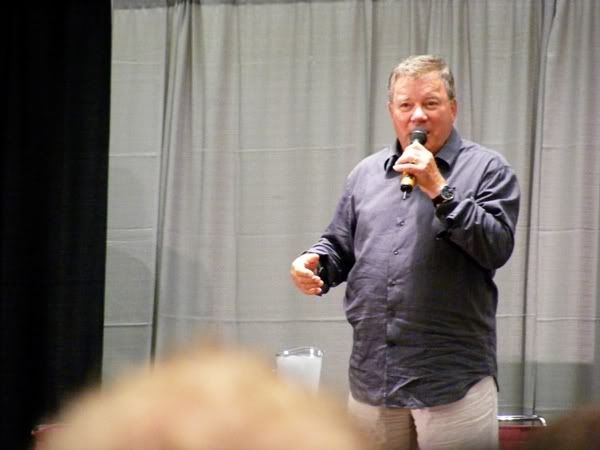 When the winter Olympics were on, he did a little thing for it, and he was kind of nervous about forgetting his lines. On the platform that would bring him from under the stage to on it, there was a teleprompter, in case he forgot his lines, but it wasn't working. So there was this guy banging on it to try to get it to work (which is what the picture is of, William Shatner imitating the guy). He ended up remembering the lines and not needing the teleprompter.
Ajay and Teddy watch The Shat in awe.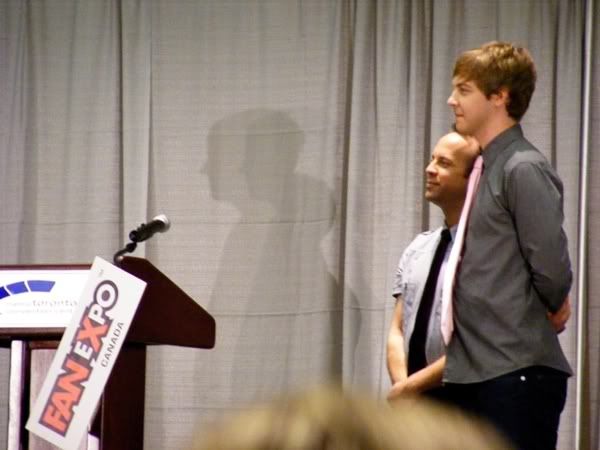 He was really good, he's a good story teller. Besides that Olympic story, he told us that when he was there, he had gotten four tickets for the hockey game, but he took too long decided who to take that someone else got them, and then he got three tickets, and then he ended up with six, so everyone who wanted to go could go. He also talked about his other shows coming out, and why he talked like he did on Star Trek (so he could remember his lines, apparently).
The crowd waiting to get out of the room.
Sunday was pretty busy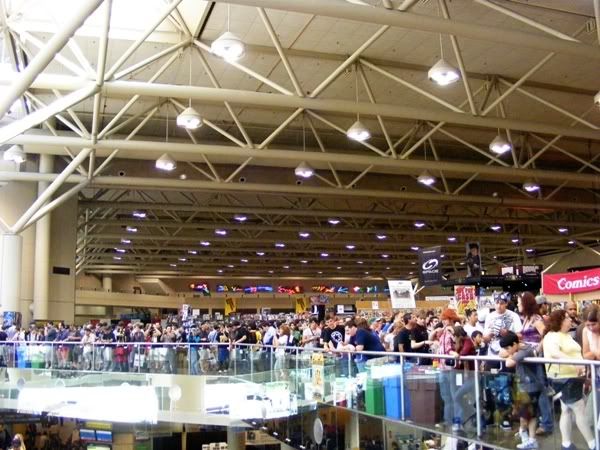 I walked around the artists area for a bit, because that was one thing I hadn't done, and I bought a few buttons from one table. I got two Doctor Who ones (one dalek and one with 'bow ties are cool' on it) and a Star Trek one. They're really cute, all they were missing were some Harry Potter buttons, or else I would have bought one.
We left around 3:30, which is when we left to go eat at Tim Horton's and then back to the hostel to get our stuff. Then we walked to the bus station and it felt like it took forever because it was so hot. We got our bus tickets, and when the bus came we got on and I got the good seats at the back where the two seats face each other so I could put my feet up. The bus ride was pretty good, I read a lot of
Mockingjay
, except when we stopped at the other Toronto bus station, these two teenage boys got on and for the whole bus ride they talked to the two teenage girls who were at the back of the bus, and were kind of annoying. I'm not much older than them, but they were just the kind of teenager that annoys me a little because they like rap music and shopping for clothes and they were kind of loud. I mean, I don't like to instantly judge people, but it happens. We got into North Bay around 11 and then I went home, pretty great weekend over.
My super long post about Fanexpo! With pictures! I got lots of video too, because I was planning on doing a vlog, but I don't think I'll do that now that I've written all this out.